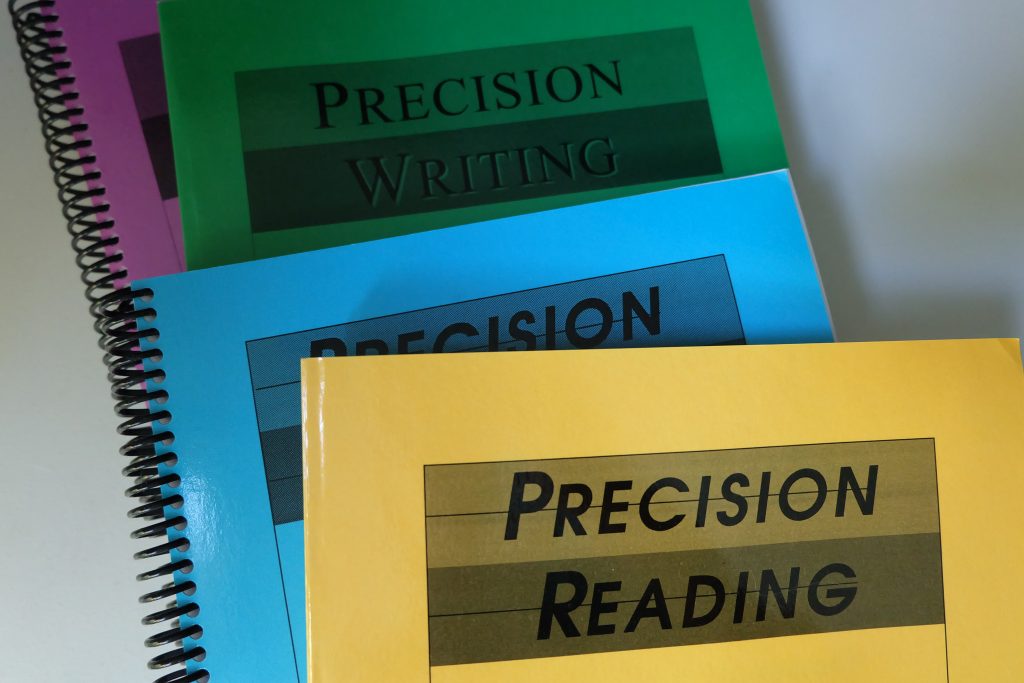 ---
The Books
The Precision Writing program is comprised of the Instructors' Handbook and Instructors' Sourcebook, which are normally purchased as a set.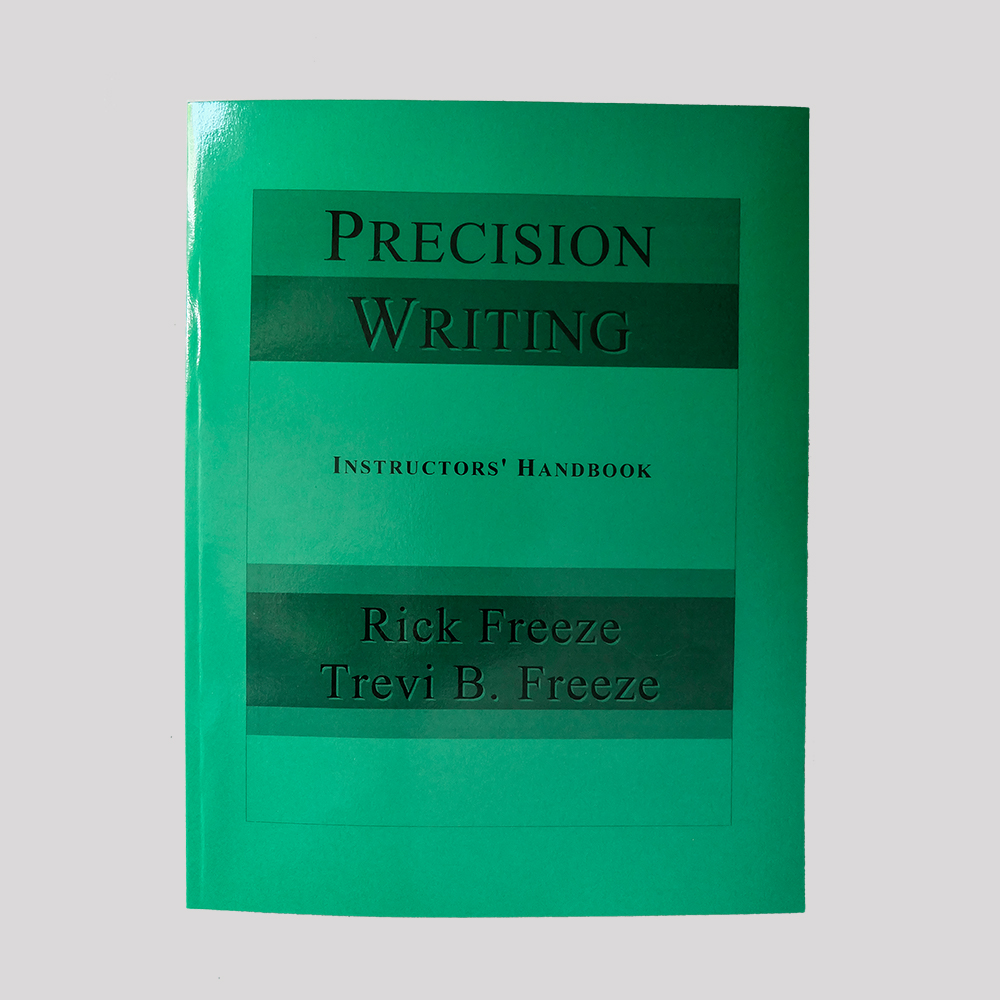 Instructors' Handbook
The Handbook describes how to do Precision Writing and explains why it works.
Chapters:
Introduction to Precision Writing
Implementing Precision Writing
Precision Writing Assessment
Precision Writing Support Strategies
Setting Up Precision Writing
Number of Pages: 165
Binding: Perfect Bound

Click here for more details.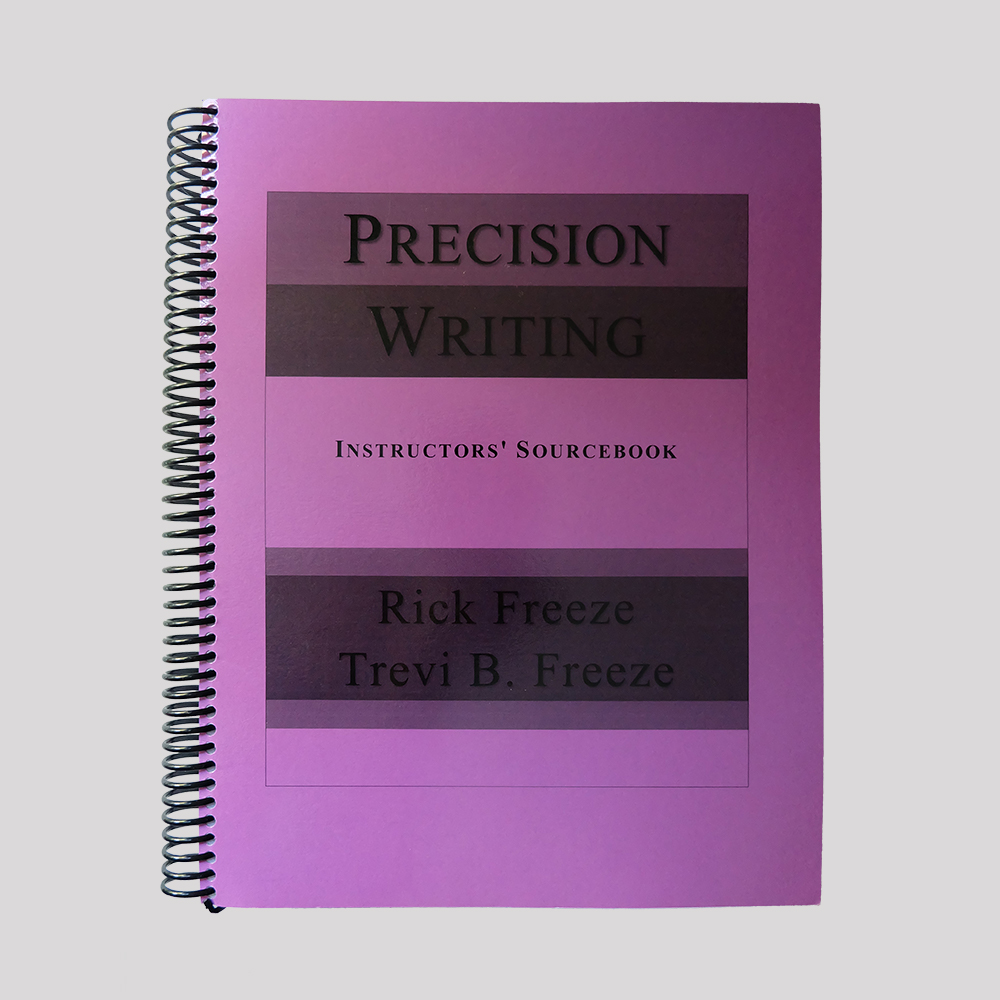 Instructors' Sourcebook
The Sourcebook contains essential resource materials for implementing Precision Writing.
Chapters:
Identifying A Topic
Clarifying The Writing Purposes
Gathering Information
Organizing Information
Writing Templates
Composing Within A Template
Revising The Content
Revising The Form
Peer Editing
Publishing
Profile
Portfolio
Support Strategies
Number of Pages: 349
Binding: Spiral Bound for easier copying

Click here for more details.
---
Who Benefits from Precision Writing?
Precision Writing will work with almost all students at any grade level after Grade 2. It has been used successfully with a wide variety of students in the elementary and secondary grades, as well as in adult education, post-secondary education, and the education of students for whom English is an additional language.
Students described as
Reluctant writers
Resistant writers
Struggling writers
Unmotivated writers
Learners with low oral language development
Below average readers
Learners for whom English is an additional language
Refugee or immigrant English learners
Learners using Precision Reading
Students with
Learning disabilities that affect language, communications, reading and/or writing
Intellectual disabilities
Autism
Attention Deficit Disorder
Precision Writing can be used in English, First Nation, and English as an Second Language classrooms. It is not recommended for students who are frequently absent from school. It is not effective with students with cognitive deficits who are not capable of learning communication symbols.
---
Improved Areas
Precision Writing is a new, inexpensive, efficient research-based writing activity that improves students' writing in the following key areas.

Productivity and Quality
Over time, leads to better information gathering, composition and revision. Peer editing for content and form leads to higher quality written work.

Scaffolds for Writing Skills
Scaffolds, templates, checklists and other support strategies help students at every stage of writing process.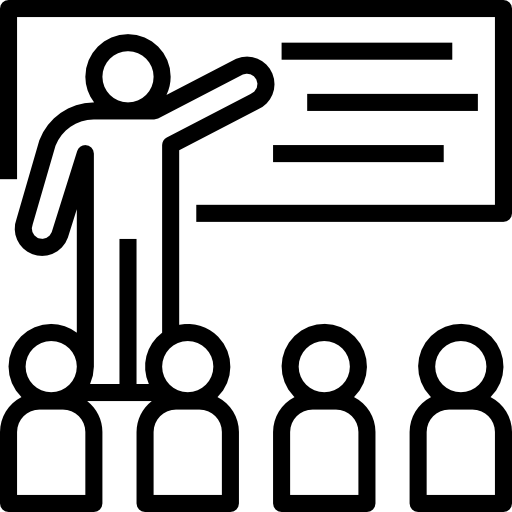 Content and Process Outcomes
Precision Writing is not a stand-alone writing program. Students write on important curricular topics drawn from subject area themes, projects and assignments. It saves time and increases instructional efficiency in the classroom.

Build Student Confidence
The many writing scaffolds, templates, checklists and strategies make writing easier to learn and easier to teach. Even resistant students will become excited about their writing projects.
---
Steps in the Precision Writing Process
1. Identifying a Topic
Planning scaffolds guide teachers and students to important and interesting curricular topics.
2. Clarifying the Writing Purposes
Writing purposes are linked to scaffolds, strategies and checklists, so that students understand why they are writing.
3. Gathering Information
Many strategies and scaffolds are available to guide students as they gather information.
4. Organizing Information
A variety of scaffolds, concept maps and other supports help students to organize the information they have collected.
5. Using a Writing Template
Each template shows teachers and students the essential elements of a common writing format.
6. Composing within a Template
Encourages student reflection and self-awareness during composition.
7. Revising the Content
Useful guides for teacher-led edits, student self-edits and peer conference edits are provided for different elements of content expression.
8. Revising the Form
Useful guides for revising the different elements of form during teacher-led edits, student self-edits and peer conference edits.
9. Peer Editing
Scaffolds for transitioning from teacher-led conferencing to student-led peer conferencing are provided.
10. Publishing
Many traditional and innovative publishing strategies are presented.
11. Profile
Provides an easy way to record students' long term progress in writing skills.
12. Portfolio
A cumulative record of each student's writing products designed to document progress over time.
13. Support Strategies
Useful strategies to guide and reinforce vocabulary acquisition and comprehension, as well as the comprehension of narrative and expository text.
---
Educational Assistants, Tutors and Parents
The information below is useful for educational assistants (paraeducators), parents and tutors considering the Precision Reading and Precision Writing programs.
Who has it been used by?
Precision Reading and Precision Writing have been used successfully by parents of children at all grade levels in a variety of ways. They can be used to support students reading and writing in language arts and other curricular content areas such as science and social studies. They also can be used to help students who have fallen behind to recover to grade level, using grade level materials from their classrooms. In addition, they help students with intellectual, learning, and other disabilities to keep up with their classmates in reading and writing.
How are the Precision Reading and Precision Writing programs used?
Some parents elect to do Precision Reading with their children or teenagers each school day for five minutes. It is best to do it at the same time and in the same place each day, so Precision Reading becomes a family routine.
The Precision Writing program offers parents step by step guidance in supporting the writing process from start to finish. At each step, there are many writing scaffolds to choose from. Templates for the most common kinds of writing assignments are provided.
Some parents hire a high school, college, or university student to tutor their children in Precision Reading or Precision Writing on a daily basis. This can be done at home or online. Parents and tutors need to read the books and follow the easy step-by-step directions.
In some cases, parents work together with the school to implement a Precision Reading or Precision Writing program that takes place both at home and at school. Contact with the school can be initiated and maintained through the classroom teacher, a teaching assistant, a resource teacher, a special educator, or a reading specialist. Both programs are useful for home schooling.
How easy are the Precision Reading and Precision Writing programs to use?
The Precision Reading method is easy to learn for both you and your son, daughter or tutee. It works best if the passages selected for Precision Reading are properly formatted as explained in the Precision Reading: Instructors' Handbook. There are preformatted passages on interesting topics related to the curriculum at every grade level in the Precision Reading: Instructors' Sourcebook.
It is also important to use materials from your son's, daughter's or tutee's grade level classroom reading assignments such as text books, in-class library books, and other home reading and study materials. Some adolescents and adults enjoy doing Precision Reading with passages in high interest areas such as sports, entertainment, travel or hobbies.
Writing is a difficult, complex and frustrating process for many students. Precision Writing provides students with a step by step method that is easy to teach and easy to learn. In addition, at each step, there are scaffolds, templates and checklists that provide guidance and support to overcome the roadblocks students frequently encounter. The Precision Writing: Instructors' Handbook explains the writing process, while the Precision Writing: Instructors' Sourcebook provides user-friendly resources to employ throughout the writing process.
Who benefits from the Precision Reading and Precision Writing programs?
While students do not need to have reading or writing problems to benefit from Precision Reading and Precision Writing, students with learning problems and disabilities may benefit most in terms of improved attitude, motivation, and reading and writing skills. When implementing Precision Reading, it may be necessary to add five to ten minutes to each daily session for some students with severe learning or intellectual disabilities as they may need additional support and comprehension strategies. Similarly, during Precision Writing, students with more severe disabilities may need more time to complete and/or more repetitions of the Sourcebook support strategies, necessitating extra time at each step in the writing process.